From Michael Hastings, reprinted by permission of Winston-Salem Journal.
The Best Burger Overall served last week during Burger Week also was the most creative. The Shrimp and Grits Burger at Sophie's Cork and Ale in Lexington easily took top honors as it pushed the boundaries of what some people consider a burger.
Chef John Wilson's burger consisted of a thick half-pound Angus beef patty nestled between two crispy cheese-grits cakes that replaced the traditional bun. The whole thing was topped with a tasty shrimp and tasso gravy. The result was something you couldn't really eat with your hands like a regular burger, but voters didn't care because it tasted so good.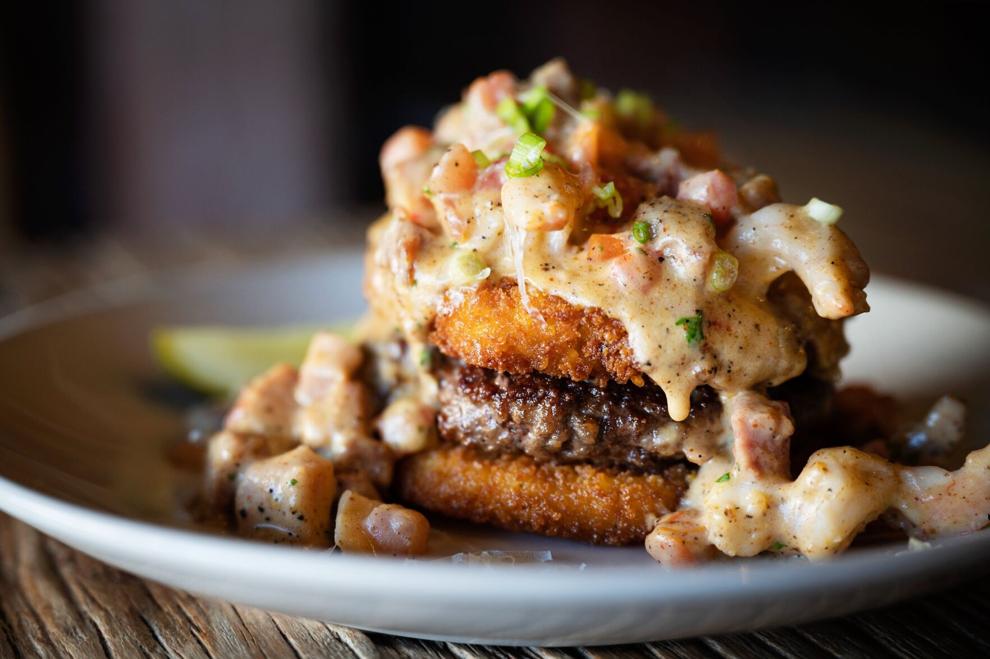 The Shrimp and Grits Burger was one of 23 burgers served around the Triad for Burger Week, a promotion of local restaurants organized by the Winston-Salem Journal and the News & Record of Greensboro in conjunction with Eat Drink Triad.
Restaurant chefs were tasked with creating a $10 "off the menu" burger to serve Sept. 19 to 25, and diners could vote online for their favorite. Altogether, diners cast almost 1,000 votes.
Sophie's also was voted the best burger in Lexington and won the Foodie's Choice award for the most creative burger.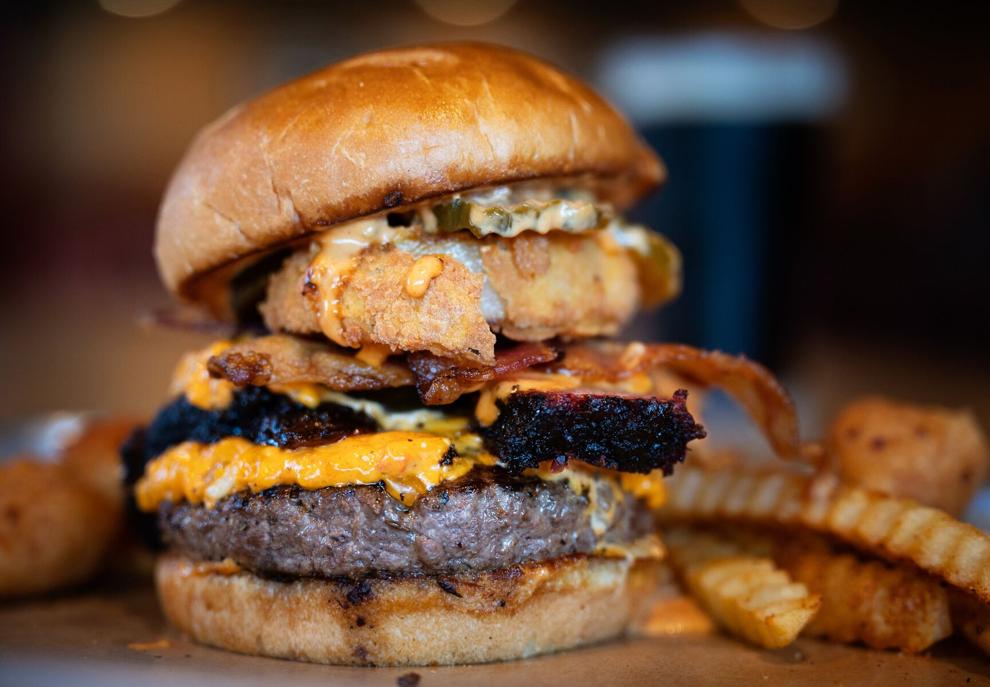 Little Richard's won for the best burger in Winston-Salem. It also was the runner-up for Best Burger Overall and Foodie's Choice. Little Richard's impressed diners with a "more is more" approach to its Mojo Burger. It consisted of a beef patty topped with smoked beef brisket, smoked pimento cheese, bacon, onion rings, candied jalapeno, pickles, and comeback sauce on a toasted brioche bun. It was a beast to eat, a good two meals in one, but people loved it.
Runner-up in Winston-Salem was the Loaded Pimento Jalapeno Burger at 6th and Vine Restaurant and Wine Bar.
Crafted: the Art of the Taco took top honors in Greensboro for its Nacho Truck Burger with all your favorite nacho ingredients — including crispy "flaming hot" tortilla chips — piled on top of a burger patty and brioche bun.
Sweet Old Bill's was the top vote-getter in High Point for its Slob, aka the Big Messy — a ground-chuck patty stuffed with fontina cheese and topped with pork belly, Swiss cheese, tobacco onions, lettuce, tomato, and garlic aioli.
Most everyone stuck with a beef patty for their burgers, with a couple of exceptions. Dom's, Winston-Salem's only vegan (or even vegetarian) restaurant, served up a beet burger with black beans, fried okra, lettuce, tomato jam, and vegan queso.
Bleu blended ground beef chuck and short rib with lamb for a Mediterranean-flavored burger with hummus, feta relish, tomato, spring greens, and harissa onion rolls. Spring House served a bison meatloaf patty melt.
Sophie's wasn't the only restaurant to combine seafood with beef. Lou Lou's Seafood in Lexington topped a beef patty with its popular crab mac 'n' cheese, citrus mayo, lettuce, tomato, and onion.
Other burgers offered a wide range of interesting and unusual ingredients, including pineapple, fried pickles, Brie cheese, Boursin-stuffed jalapenos, Cheerwine barbecue sauce, succotash, deep-fried avocado, fried eggs, and bacon jam.